You carry the responsibility of protecting your company. Ohio Valley Monitoring puts the power to keep it safe in your hands.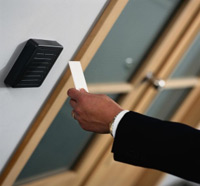 Your ability to secure data and control employee access is critical to long term success of your company. Your customers expect their private data to be kept secure and your insurance provider requires that you minimize risk and provide security to your employees.

Ohio Valley Monitoring gives you the tools and service you need to manage your company's security concerns. Using access control systems you can:
Restrict access to your facility by time and individual
Maintain control over data
Track employee movement
Secure sensitive data
Prevent loss of life during emergency situations
Call us today to schedule a private consultation to discuss your business access control needs.